The year 2017 has been filled with heaps of work, however a fruitful one. The series "Team Kinguin 2018" was created with a simple purpose: to show our team's vision to the fans. We'd like to show you our plans and work from the backstage.
Team Kinguin 
in numbers
At the moment, our organization fields three teams, with a total of 16 players. Additionally, we hire over 25 people across various divisions. In many ways, Team Kinguin is one of the fastest developing esports organizations in Europe.
We would love to share your vision with you via "Team Kinguin 2018" series. We will reveal our future plans, share our experience and knowledge. You, dear fans, an integral part of our team and that is why, we want to be 100% transparent with you when it comes to our plans for 2018.
Team Kinguin 
in 2018
The "Team Kinguin 2018" series will be divided into smaller and larger articles – all of which will focus on the most crucial aspects of our every day work. Below, we would like to show you some of the keynotes that will be tackling during the next few weeks in a series of website articles:
Kinguin Esports Performance Center
Social Media & Digital Content in an esports org
Education in esports
Cryptocurrency in the world of esports
Jobs and positions in esports
Status and goals of Team Kinguin's squads
PR in an esports environment
Team Kinguin's
divisions
Our CS:GO division has recently won both PLE (Polish Esport League) and defended its title as a champion in MP for the third time in a row (Championship of Poland). At the very end of last year, we've had two Portugese players join us – Ricardo "fox" Pacheco and Christopher "MUTiRiS" Fernandes. The decision of turning into a 3-to-2 ratio was made in order to keep our winning record in Polish events in tact, while at the same time improving our performance at international events. The team's long term goal is to achieve a TOP 10 position in worldwide rankings.
Our team currently holds the 15th position in Dota Pro Circuit's rankings as well as 14th and 18th places on community websites such as GosuGamers or joinDOTA respectively. The team led by el_lisash emerged victorious in its endeavors against some of the most legendary teams. The squad's main goal is, obviously, to take part in The International 2018. In the eyes of many, we are on the verge of becoming a Tier 1 team. We will attend two events in a matter of a few weeks: Starladder's Minor in Shanghai and then, ESL One Katowice Major, which will be taking place on our home turf. Said tournaments will be the team's nearest options to even further prove its worth.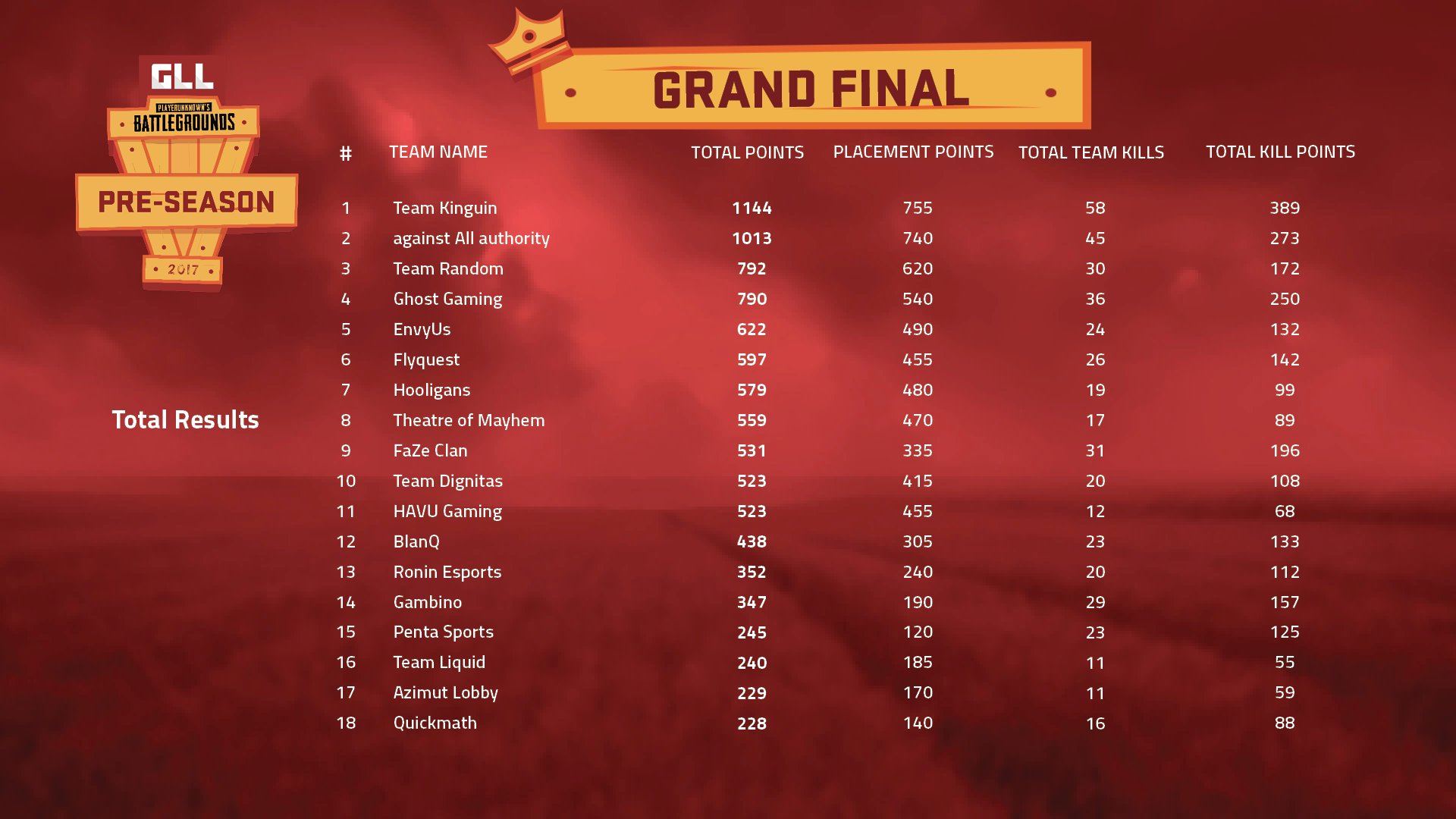 Even though PUBG's professional scene is still in its baby days, it hasn't stopped our players from strong, consistent performance at international events. The boys have become icons for both the casual community and for the more competitive one. The team's goal for 2018 is to continue its solid, international showing and even further dominance over the region of Europe.
Team Kinguin's 
staff
It goes without saying that the industry of esports is still a young one. The ways in which organizations operate differ immensely when it comes to not only level of advancement but also complexity. Said combination of diversity and the industry's immaturity results in a few crucial problems, which many companies deal with on a daily basis. To name a few: disorganized work environment, difficulties when it comes to hiring experienced individuals and setting key, long-term goals. Chaos, lack of transparency and scarce amount of concreteness are often the biggest struggles for many esports organizations.
"For OKR, 70% goal fulfillment is customary and sufficient. Failure is the standard"  – John Doerr
At Team Kinguin, we decided to tackle these problems head on. Thus, we incorporated the OKR system (Objectives and Key Results) into our workplace. It's one of the most popular techniques when it comes to business' organization. It's a battle-tested tool that works great in an ever-growing industry like esports. Such technique focuses one's attention on key goals and measurable, interconnected results.
Currently, Team Kinguin staff consists of over 25 employees, divided into different teams – each one with a different range of responsibilities:
The usage of OKRs gives us a clear and cohesive set of tools, which allows teams to find a common language while working towards a common goal – one set by management and development dept.
Kinguin 
Esports Performance Center
Presently, one of the most important, running projects of our organization is Kinguin Esports Performance Center – a multi-purpose building set on promoting esports in our country. It will be not only the main training centre for our professional divisions but also the central office for the staff of Kinguin and Team Kinguin.
We will forward more information about this project at the very end of January, during the Kinguin & Friends conference and in one of the upcoming articles in this series.
Kinguin 
ICO and Merchandise
Amongst the topics we would like to present, there is also that concerning our plans for future expansion in terms of merchandise. For that reason, we've partnered up with a well-renowned clothing company, Hummel.
Additionally, we'll expand on our plans concerning educational plans, esports panels, training camps for youth and the connection we'll be making between esports and the Krowns cryptocurrency, which ICO has been scheduled for the 30th of March 2018 by Kinguin.